Will Obama's healthcare reform plan cut costs?
Even if lawmakers approve healthcare reform legislation, it's a partial fix, say forecasters. With or without reforms, the America's healthcare spending will rise sharply over the next decade, demanding more cost containment measures.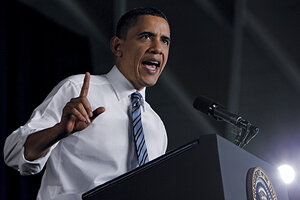 Charles Dharapak/AP
For many Americans, the question of whether to support President Obama on healthcare reform boils down to something very basic: Will the plan help control medical costs or send those costs spiraling still higher?
The president has made bold claims.
"My proposal would bring down the cost of healthcare for millions – families, businesses, and the federal government," Mr. Obama said on March 4, urging Congress to approve the stalled reform package.
American voters remain skeptical.
In a February ABC News/Washington Post poll, 59 percent of Americans called Obama's plan "too expensive." Other polls in recent months have found a majority predicting that the changes will raise their own medical costs, boost healthcare spending nationwide, and push up the federal budget deficit.
Such doubts are a big reason the president has had such a hard time moving his plan – many elements of which the public supports – toward the legislative end zone. What's the reality about Obama's plan and costs?
Although it's a complex and hotly debated issue, many of the plan's backers and foes agree on some important points:
---