By standing up to China, Google returns to its roots
Google's decision to stop censoring search results in China, despite Chinese government demands, is reminiscent of the company's founding principles.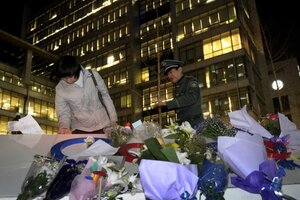 Andy Wong/AP
Google's recent decision to stop censoring search results in China is very … Google.
Or, perhaps, more accurately, it's very old-school Google.
The company announced Monday that it would redirect Chinese search inquiries to Hong Kong servers to avoid censoring search results, as is mandated by the Chinese government.
It's the type of bold corporate maneuvering that has historically been the core of the Mountainview, Calif., company's brand – the successful marriage of smart business and social good. It's the basis of the company's unofficial motto, "Don't be evil," included in its code-of-conduct documents.
"Google is a company that really does sincerely try to do good," says Paul Saffo, a fellow at the Media X program at Stanford University in Palo Alto, Calif. "But it's also created a business model were it does well by doing good, or at least it does well by not doing evil."
It's the very reason that many cried afoul when Google announced in 2006 that it would to censor search results in order to comply with Chinese mandates and gain access to the vast Chinese internet market.
For many, that decision was very un-Google.
"Initially, what [this move] does is erase the stain of 2006," says Larry Downes, author of the newly published book, "Laws of Disruption," which looks at legal regulation of technology in the last 10 years. "I think [Google] now recognizes that it was a mistake, or that's it's become a mistake in light of subsequent developments, to cooperate with the Chinese government on censoring."
---