The candy machine just sold me an iPod
Popping up in military bases, airports, fast-food restaurants, and hospitals is a new kind of vending machine that offers everything from a DVD rental to a digital camera.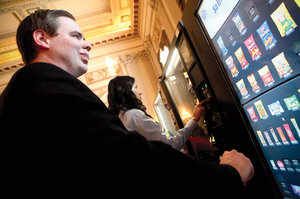 Michael Bonfigli/Special to The Christian Science Monitor
The future of retailing may be less about interacting with people than about negotiating with their machines.
Self-service stand-alone kiosks, offering everything from rental videos to digital cameras, are popping up in nontraditional public spaces like sidewalks, military bases, airports, fast-food restaurants, and hospitals. Retailers like Macy's, Best Buy, Blockbuster, Rosetta Stone, and Hot Topic have led the charge. The next growth spurt is likely to come from smart-phone technology, allowing consumers to order flowers or buy an iPod wherever and whenever they want.
In some ways, the new-generation kiosks are carving out a space somewhere between the online retailer and the conventional bricks-and-mortar store.
"Consumers like to be in control of a transaction, whether it's checkout groceries at the supermarket or checking in for a flight at the airport," says Alexander Camara, vice president and general manager of NCR Entertainment, which launched in January its first run of kiosks selling digital music downloads. "What's interesting is the adoption curve has been extremely fast; this has taken people three or four years to get used to."
Macy's is a prime example. In 2008, it launched vending machines that sold electronics, from iPods to digital cameras ranging from $14.99 to $349.99. Branded "e-Spots," the machines were installed at international airport terminals, hotels, and 400 Macy's stores.
"They were able to sell electronics without having to open electronics divisions in their stores," says Michael Kasavana, a hospitality business expert at Michigan State University in Lansing. "It [also] provided an entree into the younger market" of people who probably would never think of buying headphones at Macy's.
---