Obama wields new tools to try, again, to stem home foreclosures
The Obama administration on Friday unveiled new programs to help 3 million to 4 million distressed borrowers avoid home foreclosures. By one count, 11 million borrowers now owe more than their homes are worth.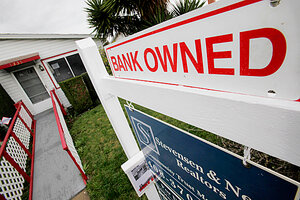 Paul Sakuma/AP/File
In a bid to meet its home foreclosure-prevention targets, the Obama administration is offering new incentives for lenders to reduce loan balances for at-risk borrowers.
The program addresses a fundamental problem in the housing market: Because of falling home values, millions of borrowers now owe more than their homes are worth – with many so far "under water" that default and foreclosure are likely.
The Obama administration effort offers several new programs for borrowers in distress:
• Many lenders, in weighing options for distressed homeowners, are being required to consider writing down the principal balance on a mortgage. Although these lenders won't reduce the principal in every case, they will have new incentives to opt for those write-downs.
• Some borrowers will be able to shift from their current mortgages into refinance loans arranged through the Federal Housing Administration. To mitigate the "under water" problem, the FHA's refinance loans will be given only when principal write-downs bring a loan balance down to 115 percent of a home's current value or less. Also, the new loan must cost no more than 31 percent of a borrower's income. Often both a first-lien and second-lien lender will take losses as the loan is refinanced, but they may fare better than if they went forward with foreclosure.
• Loan servicers who participate in the federal government's Making Home Affordable Program are required to offer a three-month forbearance period for borrowers who become unemployed. For three months, qualifying borrowers will have to spend no more than 31 percent of their income on their mortgages – even if that amount is lower than their usual payments.
---