Student loan reform: What will it mean for students?
President Obama signed the Health Care and Education Reconciliation Act Tuesday, whose student loan reform will mean big savings for the US government, but not much change for students until 2014.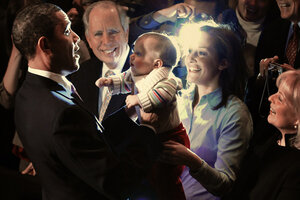 Jonathan Ernst/Reuters
Tucked inside the Health Care and Education Reconciliation Act, which President Obama signed into law Tuesday, are provisions that will change the way students can pay for higher education.
Mr. Obama called it "one of the most significant investments in higher education since the G.I. Bill," speaking at Northern Virginia Community College in Alexandria.
But just how much will reform affect the average student?
The legislation makes substantial changes in the way students get money for college, but those provisions might not necessarily be tangible for students in the immediate future.
That's because the biggest change is in who administers student loans. Instead of private banks issuing loans guaranteed by the government, the government will now become the originator of the loan.
"That's very important for students, but it isn't going to be very visible for them," says Sandy Baum, an independent policy analyst for the College Board, a New York-based nonprofit that tracks and promotes college attendance.
The change will eliminate private banks as "middlemen" in the loan process and will save the US government about $68 billion dollars over 11 years, according to the White House.
But for students, the loans will look largely the same – same terms, same fees, same interest rates.
The benefits to students will mostly be in the lending process, says Mark Kantrowitz, publisher of FinAid.org and FastWeb.com, which offer information on scholarships and student aid.
---