Toyota rebounds from recall-induced sales slump, as does its Prius
Tainted by recalls, Toyota addressed its sales slump by introducing cut-rate financing and special lease offers. It regained its footing in March, helped along by robust Prius sales.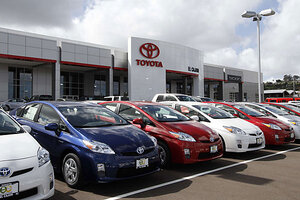 Denis Poroy/AP/File
Recall-tainted Toyota regained its footing in March, with a 41 percent sales gain as the company's Prius model retained its spot as a the industry's hybrid best-seller.
For customers, the offer of big bargains outweighed concerns about "unintended acceleration" in a range of Toyota models and a Prius recall for brake problems.
The Prius has long been the top-selling gas-electric car made by any manufacturer. It is also a hybrid that has recently ranked among the auto industry's 10 best-selling cars. For much of 2009, it enjoyed the No. 10 spot on Ward's Automotive list.
As recall concerns rose to a crescendo early this year, however, Toyota saw a sharp drop-off in sales traffic. In February, the company's sales were down 9 percent from year-before levels, and Prius sales sagged below 8,000 (at least 20 percent below the typical level).
By comparison, the incentive-fueled March sales roared like a lion. Prius sales reached 11,786 units, up 27 percent over March 2009. Overall, Toyota sold nearly 187,000 vehicles, up 41 percent from the same period a year earlier.
"Toyota's strong sales performance in March reflects our customers' continued confidence in the safety and reliability of our vehicles and their trust in the brand," Don Esmond, a senior vice president at Toyota Motor Sales, U.S.A., said in a statement Thursday.
---