Greek debt crisis: pushing more European integration?
As the Greek debt crisis rolls on, some in Britain worry that the crisis is being used to undermine economic sovereignty and pushes European integration further.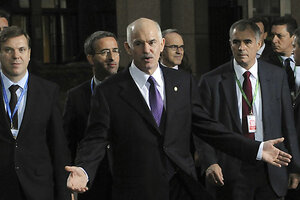 Thierry Charlier/AP/File
If Greece bond prices are any indication, investors are saying the Greek debt crisis isn't over.
On Thursday, the world's largest bond fund, Pimco, said that European efforts to back Greece and its austerity plans, were not enough – a warning that bodes ill for the country's future ability to raise funds at lower interest rates.

The continuing Greek crisis is reviving tensions over economic sovereignty – as well as exposing the difficulty of managing 16 diverse economies that share a single currency, the euro.
Some see the Greek debt crisis as underscoring the need for a unified European economic policy or greater "economic governance" – a vision endorsed this week by the European Commission in the EU's Brussels executive meeting.
Opponents of a grand European union project suspect powerful players like France and the European Union's new president, Belgian Herman Van Rompuy, of using Greece's troubles to push that agenda.
---