Shareholder groups seek to limit corporate contributions
Shareholder groups aim to keep a lid on companies' political spending in the wake of Citizens United v. the Federal Election Commission, a case in which the Supreme Court eased restrictions on corporate campaign spending.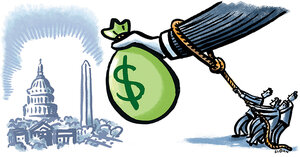 Michael Sloan
In late February, an obscure real estate company in Jacksonville, Texas, placed ads in two newspapers calling on local Republicans not to support the incumbent state representative in the GOP primary.
The ads didn't work. The incumbent won handily. But they played on the worst fears of some liberal groups. In the wake of a Supreme Court ruling easing limits on political spending, will corporate money flood into political campaigns?
Shareholder groups and others are rushing to make sure it doesn't. Handed down in January, the court's decision came too late for most shareholder activists to file resolutions for corporate annual meetings this spring. So some of them are turning to uncommon methods to keep a lid on corporate political donations.
"We're thinking beyond our usual tool of shareholder resolution filing, [exploring] what else might be effective," says Laura Berry, executive director of the Interfaith Center on Corporate Responsibility (ICCR) in New York. "The filing tool is a good one. But it's insufficient to the magnitude of the problem [of corporate political spending] this year. And the timing doesn't help."
---