'We need to come clean': e-mails could further damage Toyota
Internal e-mails at Toyota suggest a reluctance to address sudden acceleration. The documents come to light at a time when Toyota is trying to rebuild its image.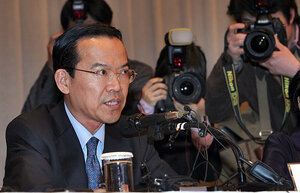 Newscom
If Toyota didn't already have enough safety-related challenges, now there's more – internal e-mails that paint the company as reluctant to address the problem of so-called sudden acceleration in its cars.
The e-mails could deal another damaging blow to the firm's once-stellar reputation and raise questions about whether the carmaker is moving decisively enough to put the crisis behind it.
In one Jan. 16 e-mail, Irv Miller, then Toyota's vice president for public affairs, said: "We are not protecting our customers by keeping this quiet. The time to hide on this one is over. We need to come clean."
Five days later, the company issued a recall to fix gas-pedal problems on 2.3 million US cars. The e-mail by Mr. Miller, and other documents obtained by news organizations this week, bolster the view that some officials within the company wanted to delay disclosure or downplay the accelerator problems.
Millions of cars recalled
By January, the relatively high number of Toyota drivers filing complaints about unintended acceleration had become a big issue for the company. Toyota had already recalled several million cars to address the risk that floor mats could trap accelerators in an open position.
---