Chinese currency may rise against US dollar. Good for both nations?
Beijing is expected to let the Chinese currency rise about 3 percent against the US dollar. That could benefit Chinese consumers and help reduce America's large trade deficits.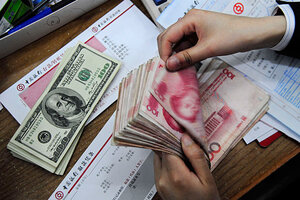 Stringer/REUTERS
China is expected to let its yuan currency rise modestly against the US dollar – a move that would have important economic and political implications for both nations.
The policy shift by Beijing has not yet been formally announced, but several news organizations reported it Friday. The New York Times cited "people with knowledge of the emerging consensus in Beijing," while The Washington Post said, "Beijing may be ready to let the yuan appreciate as much as 3 percent."
A 3 percent change is relatively small, but the move, many economists believe, would benefit both nations. It would make US-made goods a bit more affordable to Chinese consumers, which in turn could help reduce America's large trade deficits.
Perhaps the most important outcome of a Chinese currency adjustment would be political. The move could ease pressure on China from lawmakers in the US Congress, many of whom say China should be named as a currency manipulator in a scheduled Treasury Department report.
---