In Brazil, will BRIC summit unify or reinforce their rifts?
While the BRICs are four emerging economic powerhouses (Brazil, Russia, India, China), post-financial crisis differences are creating problems, says some analysts. Will today's summit mend those rifts or widen them?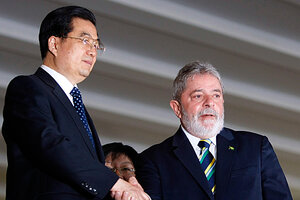 Paulo Whitaker/Reuters
Mexico City and Sao Paulo, Brazil
As the leaders of the so-called BRIC countries – Brazil, Russia, India and China – meet in Brazil's capital today, they will try to present a united front. After all, the thinking goes, each emerging economy is better of banding together than going it alone.
In many ways, this is more than just a convenient acronym coined by a Goldman Sachs economist in 2001 for key developing nations. Each nation is a champion of a multi-polar world, a bloc that serves as an alternative to the G7. They oppose protectionism and want to sell more of their own goods. They also want to bolster trade between themselves.
But in many ways their similarities are outweighed by what sets them apart.
Their differences range from such basics as geography, to their styles of governance and the economies they run. And the members of BRIC have changed in the wake of the financial crisis. Some say that Russia doesn't even belong in the club anymore. And so the outcome of their meeting in Brasilia today could, instead of giving them more prominence on the global stage, reinforce their rifts.
---