SEC charges Goldman Sachs over packaging of subprime mortgage deal
The SEC has charged Goldman Sachs with fraud over its packaging of a subprime mortgage investment.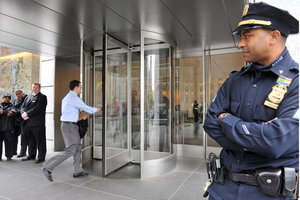 Diane Bondareff/AP
Securities regulators charged Goldman Sachs with fraud Friday, in a case that could hold Wall Street's most prominent firm legally accountable in the collapse of subprime-mortgage investments.

The Securities and Exchange Commission charged the firm and one of its vice presidents with failing to disclosure key information to investors in one supbrime-mortgage deal.
Specifically, the SEC says that Goldman failed to tell investors that it had allowed a hedge fund that was betting against the housing market to help structure the portfolio.
The civil lawsuit focuses on a single allegation, rather than a broader case against Goldman's mortgage-product activities. But it amplifies a long-running debate regarding the financial crisis: Did illegal and fraudulent activities on Wall Street play a big role in causing the crisis?
Many financial experts say that the main roots of the crisis lie elsewhere -- including in behavior that was reckless and greedy but not illegal. But federal investigators implied that more lawsuits could come.
"The SEC continues to investigate the practices of investment banks and others involved in the securitization of complex financial products tied to the US housing market as it was beginning to show signs of distress," said Kenneth Lench, chief of the agency's unit focused on so-called "structured products," in a statement accompanying the charges.Goldman's stock fell about 12 percent Friday, while an index of financial stocks was down 3 percent.
---