Should parents save for kids' college – or their retirement?
Whether to save for retirement or their children's college tuition is a big dilemma for many parents, especially as the recession has shrunk savings, retirement portfolios, and – in many cases – paychecks. But don't shortchange retirement to pay for college, advisers say.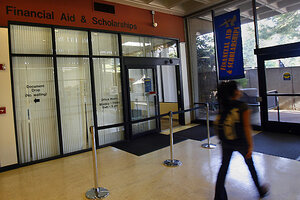 Tony Avelar/The Christian Science Monitor/File
Diane Lim Rogers started thinking about how to pay for college almost as soon as her children were born. She's an economist. It's what she does.
But recent changes in the economy mean that Ms. Rogers won't be able to finance her children's education by borrowing against her retirement savings and home equity, as she had planned. Both were hit hard in the last few years. So she's thinking about doing something that makes investment advisers shudder: pulling money out of retirement accounts to help pay tuition.
It's a dilemma older than the 401(k). Should parents pay for college or save for retirement?
The choice has only gotten harder since the great recession. While the economy has turned south, college costs have continued to mount. Average tuition rose 4.4 percent last year for private colleges; 6.5 percent for public (in-state) schools. Harvard will cross the $50,000 mark for tuition and room and board starting this fall.
Many parents cringe at the idea of saddling children with that much debt, even though their own household income has been falling since 2006. Those with children in high school, like Rogers, are on track to cover only about 11 percent of their children's total college costs (including room and board), according to a recent study by Fidelity Investments.
Put another way: If Americans withdrew every last dollar invested in state 529 savings plans, accounts specially geared toward saving for educational expenses, and divvied the funds up evenly among all US undergraduates last year, the average college student would have been able to pay for only one semester of one year at an in-state public university – or less than two months at a private college. Even with the average federal aid grant, the 2008-09 freshman would have come up short – $21,600 short in the case of a private university (see chart).
---