Millennials keep their chins up despite high unemployment in economic downturn
Facing high unemployment, millennials draw resilience from flexible goals, tech savvy, and parental cushions. Will these supports help them emerge strong from the economic downturn?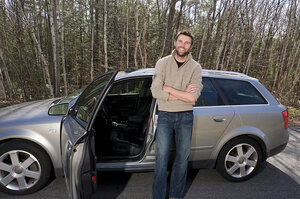 Taylor Weidman/The Christian Science Monitor
It's been more than 50 years since such a large share of America's young people – 37 percent, by one study – were out of work.
But even as the most severe economic downturn since the Great Depression played havoc with their career plans, the so-called Millennial Generation (ages 18 to 29) is coming of age with their characteristic "help save the world" optimism largely undimmed. So far, at least, hard times and rampant unemployment have not left the same searing mark on today's young adults that some previous recessions did on the young people of their day.
"Their response to hard times is to band together and fix the institutions that have failed them," says Morley Winograd, author of books and studies on the Millennial Generation. "They approach the problem with optimism and a can-do attitude, unlike the way other generations might react to the same experience when they were young."
There are a number of reasons for the chin-up stance.
For one, the recession, while the deepest since the Great Depression, is not dragging on so long that all hope of finding a good job has evaporated. For another, there's a decent government safety net now, in the form of food stamps and unemployment benefits. Millennials, moreover, seem destined to become the most educated generation ever and see themselves as having a lot on the ball. And let's not forget the soft landing provided by parents, widely considered the most overprotective, don't-cut-the-apron-strings cohort of parents in US history.
---
Follow Stories Like This
Get the Monitor stories you care about delivered to your inbox.