Counterfeit goods: designer handbags, Rolex watches, and now airplane engine parts
Counterfeit goods used to be so obvious most people knew if their Rolex was a fake. As the market has turned to the Internet, more consumers are unwittingly buying counterfeit designer handbags - and having gone so far as counterfeit airplane engine parts, it's as much a health and safety issue as an economic one.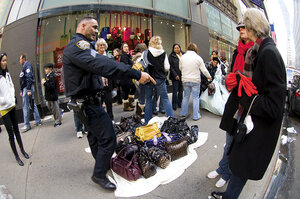 Newscom
A sidewalk vendor. A wink. A misspelled designer logo glued to the interior of a handbag. The clues to counterfeit goods used to be so obvious that most Americans knew what they were buying.
No longer. By selling online, counterfeiters are hawking a growing variety of goods to a wider and unwitting audience. It's not just scarves and suitcases they're selling. It's electrical components, pharmaceuticals, even airplane parts, which find their way into legitimate channels.
Now that almost everything can be faked, counterfeiting is as much a consumer health and safety issue as an economic one. The toughest part for consumers: spotting the fakes.
"Rather than visiting a familiar and trusted corner store for every purchase, consumers have turned to the convenience of the Internet – and can't necessarily make informed judgments about the seller on the other end of the transaction," says Susan Scafidi, a law professor at Fordham University who has a website on fashion law, CounterfeitChic.com. "The shopper who would never have considered buying from the guy on the corner whispering, 'Pssst! Want to buy a watch?' can easily be fooled by a website that looks genuine but isn't."
The most common complaint about counterfeiting is its economic damage, especially for big firms selling overseas. It devalues brands and causes the loss of about 750,000 American jobs, says the US Chamber of Commerce. Now health and safety concerns are coming to the fore.
---