Greek debt crisis: What does it mean for the US?
Europe could be in for some major belt-tightening to handle the Greek debt crisis, as well as problems in Spain, Portugal, and Ireland. That could slow US economic growth somewhat.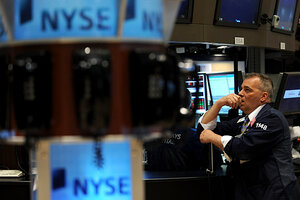 Newscom
On Tuesday as the news spread that Standard & Poor's had downgraded the government of Greece's debt to "junk" status, the US stock market stumbled.
Again, on Wednesday, the market's gulped as Spain's debt was downgraded. But by the end of the day, the Dow Jones Industrial Average had shrugged off the news, closed up 53.28 points at 11,045.27.
Other than the stock market, what other affect could Europe's debt crisis have on the US economy?
At the moment, economists believe the fallout from Athens's or even Madrid's financial problems may have only a modest impact on Main Street.
Some US companies that export to Europe may have a harder time competing if the Euro continues to weaken.
A stronger US currency might cause some German or French tourists to reconsider a trip to New York or Miami.
US banking regulators will be questioning the largest banks to determine how much they could potentially lose if a European nation somehow defaulted on its debt.
---