Will United-Continental merger raise airfares?
The Continental merger with United will get tough antitrust scrutiny, which has the potential to result in fewer flights, less competition, and higher airfares.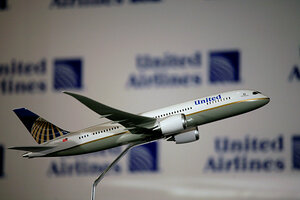 Mark Lennihan/AP
What does the merger of Continental and United Airlines mean for airfares?
The obvious concern, with two already-large airlines combining to become the biggest player in the whole US industry, is that the deal will harm competition.
In this case, while antitrust authorities are sure to give the merger a deep review, the answer may be that competition will remain strong on most routes. In many cases, the current routes flown by United and Continental don't overlap, so a merger wouldn't likely increase fares.
On routes where antitrust officials see a threat to competition, they may ask the airline to give up slots to other carriers.
Overall the airline industry is a competitive one, even though it seems like the big competition lately has been about which airline can raise its baggage fees the most:
• Ticket prices paid by US consumers have risen more slowly than overall inflation during the era of deregulation, since 1978. Thus, passengers are now paying about half as much (on an inflation-adjusted basis) to fly one mile as they paid in 1978, according to Bureau of Transportation Statistics (BTS) numbers reported by the Air Transport Association.

• Over the past year, airfares have risen faster than overall inflation (more than 7 percent), according to inflation data from the Labor Department. But a big reason is that oil prices have nearly doubled in that time.

• The average domestic airfare, at $306 as of the third quarter of 2009, is lower than its level of $340 at the beginning of 2000, according to BTS numbers.
---