Europe's $955 billion rescue package, Greek austerity, and moral hazard
Markets across the world soared after the European Central Bank promised the creation of a $955 billion rescue fund for eurozone countries with debt problems. But some economists are worried about moral hazard – bailouts leading to reckless spending.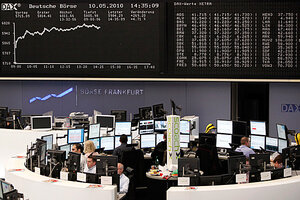 Mario Vedder/dapd/AP
The European Central Bank (ECB) promised early Monday morning to create a €750 billion ($955 billion) fund to bail out countries in the eurozone when they get into debt trouble and to act in both government and corporate bond markets as a buyer of last resort.
Stocks in Europe and across much of the world soared in response. The US benchmark stock index, the Dow Jones Industrial Average, rose as much as 4 percent in morning trading, reversing a large plunge last week on concerns of spreading European financial trouble and slowing global growth.
The euro rose as much as 3 percent against the US dollar and the yield on the Greek government's 10-year bond plunged as investors bet the risk of default – something investors were deeply afraid of in recent weeks – had fallen dramatically. (See factbox below.)
But while the ECB's move cheered investors, it alarmed some economists.
---