Facebook parents push for Pampers recall
In the latest sign of the power of social media, concerned parents band together on Facebook to push for a Pampers recall.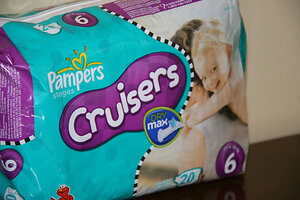 Jennifer Kerr/AP
Complaints over Pampers Dry Max diapers is the latest sign of the growing power of social media to organize consumer protests against corporations.
Since mid-April, hundreds of parents have voiced their dissatisfaction with the new version of the disposable diapers, which they claim has caused serious rashes. They're pushing for a Pampers recall.
The Facebook pages – with names like "Bring back the Pampers Cruisers, Dump Dry Max!" "Recall Pampers Dry Max diapers!" and "Pampers, Just Admit you made a mistake already!" – have put increasing pressure on Procter & Gamble, the makers of Pampers.
On Wednesday, the Consumer Product Safety Commission (CPSC) said it was investigating Pampers. On Friday, a digital media site reported that there was a Pampers recall, generating more online interest even though the report turned out to be false.
If indeed there is a link between Pampers Dry Max technology and diaper rash, the Facebook pages will have served as an important rallying point for worried parents.
"My daughter is 2 1/2, used nothing but Pampers since day one and she never had any problems," writes Dorothy McDonald on the "Bring back the Pampers Cruisers" site. "On the second day of her wearing Dry Max, she started to SCREAM in pain when we wiped her and she was all red."
---