To stave off Greek debt crisis, euro zone unveils its own TARP
The US put $700 billion into a bailout of US banks during the financial crisis. Now the nations of the euro zone are proposing a similar bailout fund – €750 billion – to deal with the Greek debt crisis.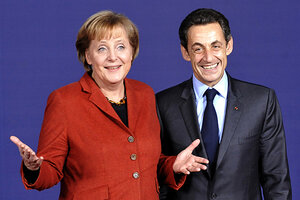 Gerard Cerles/AFP/Newscom
The European Union (EU) announced a TARP-sized rescue program for its sovereign debt crisis, and relieved global investors sent stock markets surging on Monday.
But unveiling the rescue package is not identical with "crisis over."
A potential sticking point: The deal arranged by EU finance ministers doesn't mean that parliaments in all member nations will ultimately agree to support those costs.
America's TARP fund, the Troubled Assets Relief Program of 2008, may be a cautionary tale. Even at the height of the financial crisis, America was wary of bailing out its own banking system. The initial congressional vote went against creating the $700 billion fund.
The eurozone package is politically more complicated. It's designed to show that 16 nations sharing the euro currency will stand united behind the debts of member nations to stave off a potential crisis of confidence that could damage them all.
"To disburse the money to actually fund this vehicle, it would require parliamentary approval" in participating nations, says Jay Bryson, a global economist at Wells Fargo Securities in Charlotte, N.C. "I'm cautiously optimistic that this crisis is over for now." But "there's still a long road ahead here."
---