Searching for unclaimed money? It's easier than it used to be.
Americans could be owed $33 billion in unclaimed money, such as forgotten bank accounts. The money per account is usually small, but the search process has become easier with the Internet.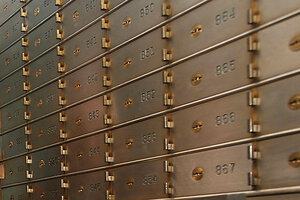 Bethany Versoy/The National Braille Press/PRNewsFoto/File
News reports that Americans are owed $33 billion or more in "unclaimed money" conjure up images of lottery-style windfalls. The reality is that if you are able to find something like a long-forgotten bank account, the amount you reap will probably be small.
The good news: It's a lot easier than it used to be to seek and find forgotten cash. Windfall or not, it doesn't hurt to poke around on Internet databases.
In the past decade, the rise of the Internet has made the process this simple: Enter your name and hit "go" on your state's unclaimed-property website. A list will pop up showing possible matches to be pursued, often with some hint of the amount of money involved.
Although states keep up the records, what we're talking about isn't tax-refund money. It's things like bank accounts, stocks, uncashed dividend or payroll checks, traveler's checks, insurance policies, customer overpayments, and contents of safe-deposit boxes. The state databases are the result of consumer-protection laws.
A search for "missing money" makes even more sense than usual at a time when many Americans are struggling financially.
CBS's "Early Show" reported Thursday morning that about $33 billion in unclaimed money resides with state treasuries and other agencies, waiting to be returned. This amounts to $280 per unclaimed payment, correspondent Rebecca Jarvis said.
---