Financial reform bill 101: What it might mean for your debit card
The financial reform bill passed Thursday in the Senate could reduce costs to retailers. That might allow them to offer you discounts for using cash or certain cards.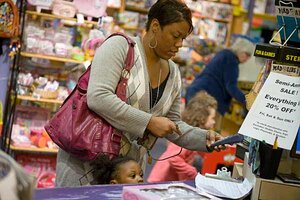 Sarah Beth Glickstein/The Christian Science Monitor
The financial reform bill that passed the Senate Thursday contains sweeping provisions that affect the big guys of Wall Street – Goldman Sachs, Bank of America, and so on. But tucked away in the fine print are things that could directly affect your own financial habits.
Take that plastic in your wallet. ("Please do," some of you might say. "I use it too much.")
The Senate legislation might change which debit or credit card you swipe, on a store-by-store basis.
Here's why: the bill would place a soft cap on the fees that banks charge retailers for debit card transactions. Most of us don't stop to think about it when we're buying that emergency cat food, say, but when we swipe that card, somebody has to pay to process the transaction. That somebody is the retailer. As you might expect, banks make a lot of money off this.
---