This Memorial Day weekend, prices at the gas pump are going down
The average US price of regular gasoline is now $2.75 a gallon, down from $2.87 a month ago. The last time prices at the gas pump fell leading up to Memorial Day was in 2005.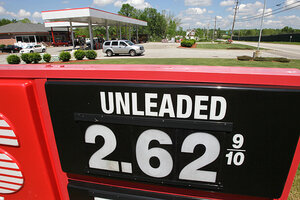 Amy Sancetta/AP
For the first time in five years, US gasoline prices are falling as the Memorial Day holiday begins.
For the 28 million Americans expected to hit the road this weekend, lower gasoline prices will give them more money to spend on ice cream, shrimp po' boys, or a new pair of sunglasses. That may help assuage the frustration of hitting a traffic bottleneck or waiting for a stalled car to be moved.
It will also help people feel better about the economy, since gasoline expenses represent an instant out-of-pocket expense.
"It's like a tax cut, a multibillion-dollar tax cut," says economist Joel Naroff of Naroff Economic Advisors in Holland, Pa. "No question, it's good news."
On a state-by-state basis, AAA says, the five most expensive places at the gas pump are Hawaii ($3.55 a gallon), Alaska ($3.50), Utah ($3.05), California ($3.04), and Idaho ($3.02). The least expensive states are Missouri ($2.52), Ohio ($2.55), South Carolina ($2.58), Oklahoma ($2.59), and Tennessee ($2.62).
---