Dow plunges below 10000 amid bad news on euro and US jobs
The Dow Jones Industrial Average closed Friday at 9931, below the symbolically important 10000 mark. It has slid in five of the past six weeks. Debt in Europe and tepid US job market are triggers.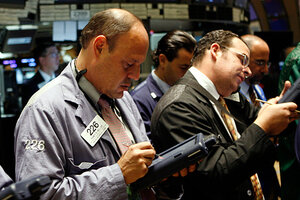 David Karp/AP
Growing doubts about the world's economic recovery pummeled financial markets Friday, following a weaker-than-expected jobs report for the United States and fresh worries about European debts.
The Dow Jones Industrial Average dove below the 10000 level with a 3 percent drop for the day, closing at 9931.
The Dow index has fallen in five of the past six weeks. European stocks also declined Friday, and the euro currency descended below $1.20 in value for the first time in four years.
Behind the worry on Wall Street: concern that nascent economic recovery is more fragile than it appeared a month ago, when the Dow index stood above 11000. In turn, shaky financial markets could take their own toll on the economy, if a falling stock market dampens consumer confidence.
Friday's bad news
On Friday, unease about Europe's sovereign-debt problems emerged anew, with investors focused on Hungary and whether it can afford its debt burden.
America also became a source of bad news. The US created 431,000 jobs in May, the Labor Department reported, but the gains didn't represent permanent hiring. Instead almost all the growth was in short-term federal Census jobs.
---