States cap workers benefits to reduce shortfalls: Is your pension fund at risk?
States' pension fund holdings are short $1 trillion. Illinois's answer: Cut benefits for state workers. But even that might not be enough.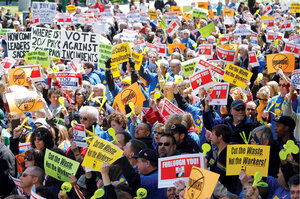 Mike Groll/AP
The funding crisis that will eventually hit Social Security is coming much sooner to a state near you.
The ravages of the recession combined with chronic underfunding have created a $1 trillion shortfall, by one estimate, and threaten to undermine the pensions of state workers around the United States within the next 15 to 20 years. The probable results in many states: fewer guaranteed benefits for new state workers and either more taxes or fewer services.
"These are not politically attractive options and not necessarily economically attractive options, but for the last 30 years state governments have been more than happy to pay money for stuff they don't have, and someone has to foot that bill," says Jeff Brown, a former economic adviser in the Bush administration and a finance professor at the University of Illinois at Urbana-Champaign. "There's no way to get around it."
With the worst-funded pension system in the nation, according to the Pew Center on the States, Illinois is a now a testing ground for how to fix the problem.
The challenge is large. In June 2009, accrued liabilities reached $126 billion, $62 billion of which was underfunded. In December, a state commission put the underfunded amount at $77.8 billion.
In April, Illinois Gov. Pat Quinn signed a reform bill that he said would stabilize pensions and save taxpayers $200 billion over almost 35 years. The measure hikes the retirement age to 67 and caps pension benefits. Anything state workers earn above $106,800 won't be included in pension calculations.
---