More workers quit their jobs, and that's good news for the economy
The economy responds to consumer fear and confidence, and confident workers quitting their jobs in search of something better signal to economists that things are looking up.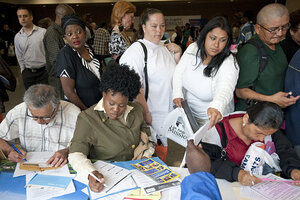 Adam Lau/AP
Sometimes quitting is good.
In a sharp reversal from the previous 15 months, more people quit their jobs in the past three months than were laid off. And that's a good sign, economists say.
"In general, that's a sign of better economic times," says Donald Siegel, dean of the school of business at the University at Albany, part of the State University of New York. "I interpret it as a sign of an improving job market … when people feel confident enough to quit their jobs."
Nearly 2 million people quit their jobs in April, the highest number of resignations in more than a year, according to the Bureau of Labor Statistics (BLS). By contrast, 1.75 million people were laid off in April, the fewest since January 2007.
February, March, and April figures mark the first time since late 2008 that more people quit their jobs than were laid off.
---