When taxes rise next year, will the rich avoid them?
Extreme tax avoidance could frustrate Obama's plans to trim the deficit.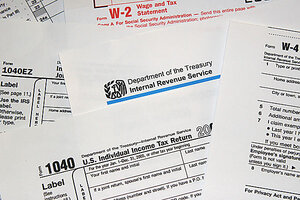 Karen BLEIER / AFP / FILE
If tax rates on the rich rise next year, as the Obama administration plans, millionaire Eric Schoenberg of New Jersey will gladly pony up. "Many of the wealthy are aware of the budget deficit. And they're willing to do their fair share to correct it," says Mr. Schoenberg, a Columbia University economics professor whose wealth comes from investments and inheritance.
It's a noble sentiment. However, when rates have gone up in the past, most big earners have looked for ways to avoid more taxes, not pay them. As the 2001 and 2003 tax cuts sunset this year, the key question is how much tax avoidance rich Americans will engage in this time around – and for how long. If they shield too much income, they'll frustrate the Obama administration's efforts to trim the deficit by raising taxes on the rich.
"The rich will not leave money on the table because of a sense of social responsibility to help finance the government this year," says Seth Giertz, an economist at the University of Nebraska at Lincoln. If tax rates rise on the rich, he's expecting the "usual response" by high earners of shifting income to the lower tax year.
---