Are home prices headed for another drop?
It's still a good time to buy. The end of tax credits and foreclosures will help keep home prices down.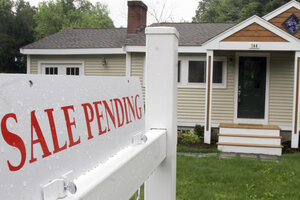 AP Photo/Bill Sikes
US home prices could be headed for another dip, now that a temporary tax credit offered to buyers is ending.
In fact, even before the special tax incentive ended this spring, average home prices were already dipping after a relatively stable period in 2009. They've fallen about 3 percent in the past year.
Where prices head next depends on a kind of tug of war between two forces. An improving economy should lend support to the housing market, while a tide of mortgage defaults and foreclosures will exert downward pressure on home values. For now, the consensus view is that modest declines in home values lie ahead.
Why is the housing recovery so weak?
The short answer is that housing cycles can take a long time to play out. High unemployment and foreclosures have increased the number of sellers and kept many potential buyers on the sidelines. The Obama administration goosed demand for a while with a tax credit of up to $8,000 for first-time home buyers, but it's now expiring.
Government policies and the recession have had a big effect on the market. In April, about half the buyers of previously owned homes were first-timers, and 33 percent of all sales involved distressed properties such as bank-owned homes.
---