Home sales silver lining: immigrants set to drive up demand
Homes sales have taken a beating in this recession. But the growth of the immigrant community should result in more home buyers, according to a Harvard study.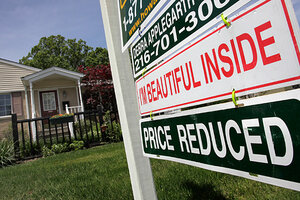 Amy Sancetta/AP
Here's one bright spot in the housing market: Demographic trends suggest that the US will have many new home buyers in the coming decade.
That's one core conclusion of a report released Monday by Harvard University's Joint Center for Housing Studies.
In the next 10 years, "household growth should match the 12.5 million" level seen during the decade from 1995 through 2005, according to the report, which the research center issues once a year. That should be the case even if immigration runs at a relatively slow pace.
A key reason: Immigrants and their native-born children who are already in the US are filling out the ranks of the "baby bust" and "echo boomer" generations, so that each of those groups will now rival the baby boom generation in size.
All this doesn't mean that US home prices are poised for another boom in the near future.
Unemployment remains high in most cities, with the national jobless rate near 10 percent. And some states still have a very large overhang of homes heading into foreclosure. Overall, home prices fell in much of the nation during the four quarters ending in March 2010. (See map attached to this news report.)
But the demographic factors reveal some light in the housing-market tunnel.
"Even if immigration falls to half the Census Bureau's currently projected rate, household growth will still average about 1.25 million annually," says the study, conducted by multiple Harvard researchers.
---