Will Gulf oil spill cleanup suffer if BP makes dividend payments?
President Obama wants BP to set aside more money for its Gulf oil spill liabilities. Rising estimates of cleanup costs are putting financial pressure on the firm.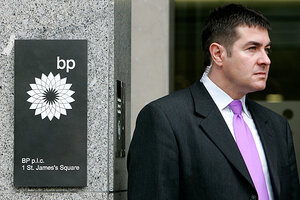 Akira Suemori/AP
It's crunch week for BP and President Obama.
The oil company's board of directors was meeting on Monday to consider a possible suspension of shareholder dividends – a move that would increase BP's funds on hand to pay Gulf oil spill cleanup costs and damage claims.
But the move hinges on politics more than on the firm's financial outlook, many analysts say.
IN PICTURES: The Gulf oil spill's impact on nature
The president and members of Congress have been pressuring BP on several fronts: to do better at mopping up oil slicks, to create an escrow fund to cover spill costs, and to stop paying dividends to ensure adequate funding of the cleanup. With a visit to the Gulf of Mexico shoreline on Monday, an address to the nation Tuesday, and a meeting with BP officials scheduled for Wednesday, Mr. Obama is renewing efforts to exhibit leadership during the crisis.
That means it's a sensitive moment for BP.
The political pressure on the firm is enormous. The board and chief executive Tony Hayward know the firm must appear prepared to face its liabilities and also responsive to appeals from top US leaders. An announcement by BP on the dividend could come after board chairman Carl-Henric Svanberg meets Obama Wednesday.
Not an 'either-or' situation
---