Consumer price index 'inflation report' shows deflation. No Fed rate hike until 2012?
The consumer price index normally tracking inflation now shows deflation. To some forecasters, this signals recession, meaning that central banks will be keeping interest rates low.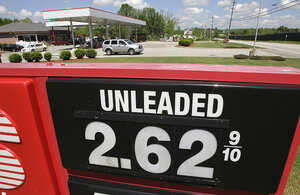 Amy Sancetta/AP
The overall level of US consumer prices fell in May for the second month in a row, a sign that the economic recovery remains weak.
Normally people call this monthly bulletin the "inflation report." Now the consumer price index (CPI) shows deflation at least since January.
To some forecasters, this signals the risk of dip back into recession in the US. Or, more likely, it means that central banks will be keeping interest rates low for many months to come – perhaps even into 2012.
The problem: Unemployment is still high, hindering the growth of consumer incomes that would normally drive a post-recession recovery. A slack job market could depress wages, even as high consumer debt levels keep a lid on home prices and consumer spending. Such deflationary pressures could dampen confidence for consumers and businesses.
A crisis surrounding European debt, meanwhile, has caused economists to scale back their forecasts for global growth. In turn, that pushed oil prices down in May.
"Disinflationary and deflationary pressures among the major industrialized countries are gaining momentum," says Brian Bethune, an economist at IHS Global Insight, in a report Thursday. "The Fed has a checkered flag to maintain an extremely accommodative stance on monetary policy."
---