Lakers' NBA title caps a lucrative month for sports business
It didn't hurt that the Lakers were up against their rivals, the Celtics, for the NBA title. But it isn't just ABC and the NBA that are scoring financially. There's hockey, golf, tennis, and the World Cup, too.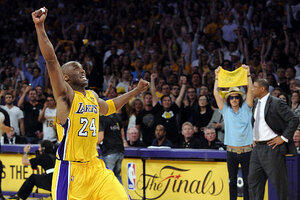 Mark J. Terrill/AP
June is turning into a high-scoring month for the sports business – punctuated by the nail-biter series that made the Los Angeles Lakers NBA champions on Thursday night.

By lasting for seven games, and with a finish that hung in the balance until the final seconds, the basketball series became an ad-revenue winner for host network ABC. It didn't hurt that the Lakers were up against the Boston Celtics, making it a rematch of one of the most storied rivalries in pro sports.
"It was a terrific back and forth series," says Andrew Zimbalist, a Smith College economist who follows the sports business. "It's good for the buzz … of the NBA." Although a single event like this doesn't catapult basketball to a new place in American hearts and wallets, the excitement came at a helpful time, when sports are struggling with some of the same economic challenges as other industries, he says.
IN PICTURES: NBA Finals riots in L.A.
A parade through L.A. in coming days will cap the Lakers' success. But it isn't just ABC and the National Basketball Association that are scoring financially and with fans.
---