G20 summit dilemma: Stimulate economic growth or rein in deficits?
The chief question at this weekend's G20 summit will be how to keep the world economy growing. The Europeans are cutting government spending, ignoring President Obama's call for more stimulus.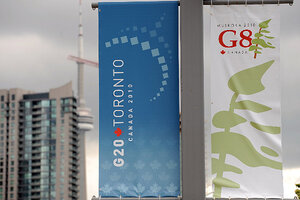 Newscom
World leaders are preparing for three days of meetings in Canada at the G20 summit, where the major theme will be the state of the world economy.
Is the globe looking at a second recession that might require another burst of government stimulus? Or is the economy safe enough so that world leaders can begin to rein in their budget deficits to calm financial markets?
These will be two of the major questions discussed starting Friday when world leaders meet in Canada – first the Group of Eight (G8), comprised of the major industrial nations such as the US and Germany, and then the G20, which includes such countries as Indonesia and Saudi Arabia.
"The theme that will dominate both the Toronto G20, and probably the G8 Muskoka Summit as well, is governing the global economy at this precarious time," says John Kirton, director of the G8 Research Group in Toronto.
On one side of the table, the United States is set to argue that now is not the time to slow or even contract government spending on such things as roads and employment programs. On the other side are nations, such as Britain and Germany, intent on reducing budget deficits to avoid the financial market turmoil that beset Greece, which was forced to cut its spending and then saw riots in its streets.
---