Plunging Dow, consumer confidence: signs of 'double dip' recession?
Investors worldwide have grown more cautious about the outlook for the economy and corporate profits.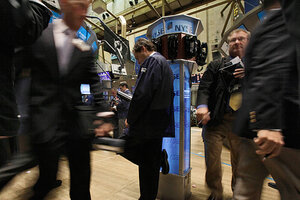 Richard Drew/AP
Worries about the global economy are showing up in sagging stock prices, a plunge in US consumer confidence, and an investor flight to safe-haven Treasury bonds.
The underlying concern is a simple one: Does the economic recovery have staying power, or is the risk of a double-dip recession rising?
Even though many economists see continued expansion ahead, investors have grown more cautious about the outlook for the economy and corporate profits. The Dow Jones Industrial Average fell about 2 percent in morning trading Tuesday, with the index dipping below 10,000. In April, by contrast, the Dow stood above 11,000.
The mood shift is global, fueled by challenges that have cropped up from Europe to the US and China:
An index of US consumer confidence fell sharply in June, the Conference Board reported Tuesday. Consumers in the survey gave more downbeat views of both their "present situation" and their outlook for the future, sending the overall index to 52.9, down from 62.7 in May. For comparison, this index was at 100 in the baseline year 1985.
The Shanghai Composite stock index fell 4 percent Tuesday as a leading economic indicator for the Chinese economy was revised downward. This indicator, also released by the Conference Board, still projects growth in China. But the pace could cool as the nation struggles to maintain momentum while also letting air out of a real estate bubble.
In Europe, concerns persist about how the Continent will manage its sovereign-debt problems. Stocks fell Tuesday there, also, and Europe's woes highlight a challenge that's global in scope: How to stimulate growth while not adding to debt burdens.
---
Follow Stories Like This
Get the Monitor stories you care about delivered to your inbox.