Senate passes financial reform. Will it help the economy?
President Obama is set to sign the financial reform bill into law soon, but critics worry it will stifle the flow of credit that is key to economic recovery.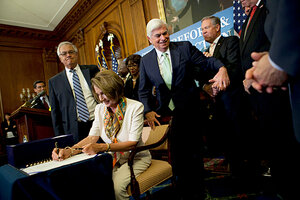 Drew Angerer/AP
The Senate passed major financial reforms, in a 60-39 vote, Thursday, sending the legislation intended to overhaul the regulatory system to President Obama for his signature.
The question that remains is whether it will help prevent future financial crises – and whether it can achieve that objective without curtailing the flow of credit that will be vital to economic recovery.
Many finance experts say that, on balance, the bill is a step forward. But they add that it doesn't eliminate the risk of a new crisis or the prospect that large banks could reap bailouts during such an emergency.
Some critics of the measure have a different concern: that ramped-up regulations of the financial sector could crimp lending activity at a time when the economy is still struggling to get back into growth mode after the harshest downturn since the 1930s.

The financial reforms have enormous scope, even though some critics on both the left and right say important elements are lacking. It will:

• Set up an oversight council of top financial regulators to watch for "systemic risks" among banks, insurance firms, and other companies involved in the flow of loans or risky assets.

• Empowers regulators to take over a large financial firm that's on the brink of collapse, with the goal of dismantling it in a way without spreading wider chaos in the economy. Financial firms themselves, not taxpayers, would pay any costs involved.

• Creates a new bureau of consumer protection, designed to better promote transparency and safety in things like mortgages just the way federal agencies do on things like foods.

• Calls for tighter oversight of a range of activities outside traditional lending, which affect the health of the financial system. These areas include hedge funds and the complex investment contracts known as derivatives.

The Senate's vote came after a year of wrangling in Washington over how to safeguard the nation from the sharp economic decline in 2008, causing double-digit unemployment. Joblessness surged even in communities that had not seen a housing bubble or a foreclosure wave.
---