Beyond unemployment insurance: Six ideas to lift the economy
While Congress fights over extending unemployment insurance, Americans remain sour on the economy. But a few proposals show promise for encouraging growth.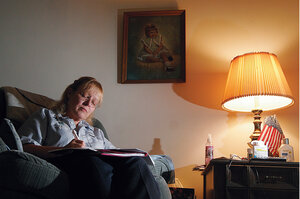 Lisa Powell/Dayton Daily News/AP
The economy's slow patch has become a test of American confidence – and of whether policymakers can implement ideas to rev up job-creation engines beyond President Obama's exhortations to Congress to extend unemployment benefits.
Overall, Americans are still gloomy on the economy, according to a new TIPP poll of American adults. An index that measures economic mood fell in July for the second straight month and has been in pessimistic territory (below the 50 mark) for the year. Its July reading of 44.7 is well above its 2008 low of 37, but the index is at a new low since February 2009.
Three in 10 Americans have so little confidence in a recovery that they say an economic depression – not just recession – is likely within the next six months.
But is the negativism overblown? Whatever the answer is to that, does America need some new policies to get the economy moving faster?
The level of economic anxiety may be too high in one sense: The public has a much more pessimistic view than most professional forecasters, who don't see recession or depression ahead. To some extent, mood can become a factor driving real economic behavior – restraining spending and investment.
Yet, real reasons are driving America's pessimism:
•The pace of a nascent jobs recovery has cooled in the past two months. Businesses are reluctant to hire until they see more consumer spending.
•Tax hikes (at least for affluent Americans) and regulatory changes loom on the horizon.
---