Recession humor enjoys global boom
Audiences are increasingly turning to comedy to ease the recession blues.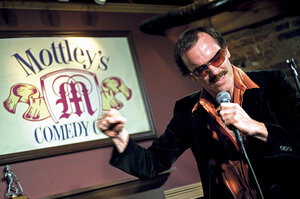 Joanne Ciccarello/Staff
What's the difference between an investment banker and a pizza?
A pizza can feed a family of five.
Recession humor is everywhere. On TV. On the Internet. The worse the economy gets, it seems, the more Americans need to laugh.
That's creating a business opportunity for comedians.
Every Wednesday in a small, cramped basement at Boston's historic Fanueil Hall, Mottley's Comedy Club presents the "Bailout Show." The comedy can be about the economy or not. The twist is that people who bring a copy of their layoff letters or unemployment check stubs get in for free along with a friend.
"A lot of people lost their jobs and need a good laugh," says Jon Lincoln, host of the weekly "Bailout Show" and Mottley's co-owner. "Comedy offers an escape for people, but at the same time shows them they aren't alone. Oftentimes comics talk about what is going on in the world and they spin it to be funny. No matter how bad things get there is always time to have fun." (Since there's no comic employment rate or national comedy index, the impact of the recession isn't easy to pin down.)
---
Follow Stories Like This
Get the Monitor stories you care about delivered to your inbox.