BP loses $17 billion, but is worst over as Robert Dudley takes reins?
BP earmarked $32.2 billion last quarter for current and future Gulf oil spill costs – leading to $17 billion in losses. Yet BP is cautiously optimistic with Robert Dudley set to take over in October.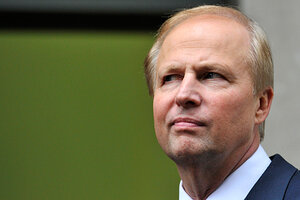 Toby Melville/Reuters
The oil giant BP reported a $17 billion loss for the year's second quarter – a gargantuan hit to the firm that reflects key costs of the Gulf oil spill.
But the loss comes at a moment when BP is poised to put some of the biggest challenges of the Gulf oil spill crisis behind it.
IN PICTURES: Destructive Oil Spills
Among the changes of recent weeks:
• Along with the quarterly results, BP announced a change in top leadership. Tony Hayward, who enraged many Americans with a demeanor that appeared insensitive to the distress of Gulf residents, will be replaced by BP Managing Director Robert Dudley. Mr. Dudley will become the London-based corporation's first American chief executive.
• Progress has been made on stopping the flow of oil. A cap has prevented any more oil from spewing into the Gulf of Mexico, and BP could stop the well permanently within weeks.
• The company has set aside $20 billion to pay economic damages to Gulf-area communities and businesses, and a new independent administrator, Kenneth Feinberg, is working to get the money moving faster to spill victims.
---