BlackBerry Torch 9800 launch clouded by security spat with UAE
The United Arab Emirates wants greater access to BlackBerry communications data. Research in Motion, which released its new BlackBerry Torch 9800 on Tuesday, could lose a lucrative market.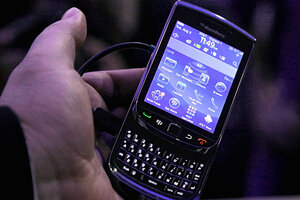 Richard Drew/AP
For the makers of BlackBerry smartphones, Tuesday was supposed to be all about its new Torch 9800, the model meant to take on Apple's iPhone. But a security-related scuffle with officials in the United Arab Emirates is raining on the parade.
The federation's telecom regulator says it plans to halt BlackBerry data communications within the UAE, unless Canada-based Research in Motion (RIM) allows greater ability for authorities to monitor communications from the phones.
It's a battle that has high stakes for RIM.
"RIM is increasingly dependent on markets other than the United States and Canada ... for growth," says Kevin Restivo, a mobile-phone analyst at IDC Corp. in Toronto. "It would be in RIM's best interest to resolve this" in a way that keeps markets like the UAE open for its business.
"I would be surprised if RIM couldn't resolve this," Mr. Restivo adds, noting that the firm has successfully entered markets such as China.
If the company fails to reach a deal, it loses out on a lucrative market, with about half a million UAE customers who may switch products.
---