Wheat prices soar: How will that affect the grocery bill?
Wheat prices have jumped about 75 percent since early July. Drought in Russia and, perhaps, speculators in the commodity markets are behind the increase.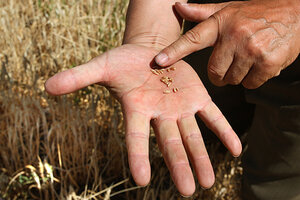 Elise Menand/AFP/Newscom/File
A loaf of bread could soon cost more money out of your pocket if the price of wheat continues its recent spike upward.
Since early July, the price of wheat, used to make flour, has jumped about 75 percent. On Thursday, the price on the Chicago Board of Trade, a futures market, rose more than 12 percent from Wednesday, closing at $8.15 per bushel, the highest level in two years.
Behind the rise on Thursday was Russia's announcement that it was temporarily banning wheat exports because of a drought. Russia is the world's largest exporter of the grain.
If the price hike holds, the consequences could potentially be felt worldwide. Poor people around the globe – and the organizations that help them – will have a more difficult time affording basic food such as bread. Eventually, the price of food made from wheat in the US could start to rise, although the wheat in a loaf of bread is less than one-quarter of that loaf's cost. It might also mean that US farmers, with the likelihood of a good harvest this year, could take advantage of the high prices to pay off debt and make money.
"This run-up has caught everyone in the marketplace by surprise," says Bill Lapp, an economist and founder of Advanced Economic Solutions in Omaha, Neb. "We don't know how large the crop will be in Russia, the Ukraine, or Kazakhstan, and until we have an idea, we will have extreme volatility and the potential for higher prices."
---