Unemployment rate shows US 'upturn is nothing great'
Unemployment rate watchers noted that summer is traditionally a slow season for hiring, but the economy continues to show signs of slow progress. The unemployment rate stayed at 9.5 percent in a jobs report issued Friday.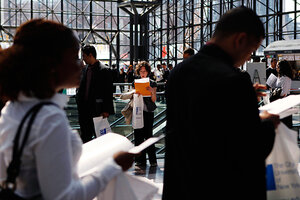 Shannon Stapleton/Reuters/file
It now appears this will be a disappointing summer for people looking for a job.
There was a reduction of 131,000 jobs in July the US, according to the Bureau of Labor Statistics. Many of the layoffs were the result of part-time census workers who had completed their work. But, the private sector failed to kick in with much in the way of new hiring – adding 71,000 new positions.
The BLS reported the unemployment rate remained unchanged from June at 9.5 percent, mainly because 181,000 people dropped out of the labor force and so no longer count against the jobless rate. Most of these people have likely given up on looking for a job out of frustration, economists say.
This report, some economists say, indicates the economy is continuing to grow but at too slow a pace to create a lot of new jobs. However, economic analysts don't think this report will spur the Federal Reserve, which meets next Tuesday, to begin any significant new interest rate-reduction or economic stimulus programs.
"The implications of this report is that we are moving forward, we are not in a double dip situation," says Joel Naroff of Naroff Economic Advisors in Holland, Pa. "But this modest job recovery is indicative of the fact the upturn is nothing great."
---