Freddie Mac reports loss, seeks another $1.8 billion in taxpayer bailout
Mortgage giants Freddie Mac and Fannie Mae, between them, have needed $148.2 billion in bailout money since late 2008 to stay afloat. The aim is to ensure that mortgage credit remains available.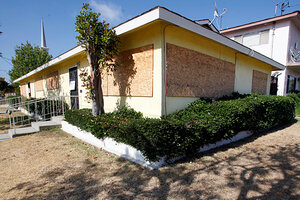 Reed Saxon/AP
The mortgage-finance company Freddie Mac reported a $4.7 billion net loss for the second quarter Monday, due to a rise in home loans that ended in default.
The report, following a similar loss at sister company Fannie Mae last week, underscores that the US housing market remains a central trouble spot in the economy. Because these government-sponsored enterprises (GSEs) sit at the heart of the housing market, it also means the taxpayer tab is rising for keeping these firms afloat.
In reporting the loss, Freddie Mac also said that the Federal Housing Finance Agency will ask for $1.8 billion in additional Treasury funds to support the firm. The FHFA has held Fannie Mae and Freddie Mac in a conservatorship, to keep them from failing, since they collapsed during the 2008 financial crisis.
The FHFA made a similar request for new aid for Fannie Mae ($1.5 billion) last week. The new requests mean the two mortgage companies have needed $148.2 billion to stay afloat, according to the Associated Press. About $63.1 billion of that is being used by Freddie Mac.
---