Fannie Mae and Freddie Mac reform: Would it add $5 trillion to US debt?
The Obama administration held a conference Tuesday about how to reform mortgage giants Fannie Mae and Freddie Mac. Reform could involve adding Fannie and Freddie's roughly $5 trillion in obligations, in effect, to the federal balance sheet.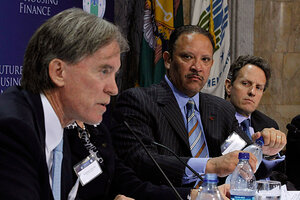 Jason Reed/Reuters
The Obama administration turned its focus squarely on a $5 trillion question Tuesday: What to do with Fannie Mae and Freddie Mac, the giant financiers of US home mortgages that fell into a bankruptcy-style conservatorship two years ago.
These two corporations together own or guarantee about half the mortgage debt in America. What happens to them will affect the ability of the economy and the housing market to recover. It also has big implications for US taxpayers, who could foot even higher bailout bills if the mortgage-insurance business isn't fixed.
"We will not support a return to the system where private gains are subsidized by taxpayer losses," said Treasury Secretary Timothy Geithner, in remarks Tuesday that opened a day-long conference on how to reform these so-called government sponsored enterprises (GSEs).
Mr. Geithner cited the possibility of giving Fannie Mae and Freddie Mac an "elegant funeral." But that wouldn't mean a government exit from its prominent role in America's housing market. In fact, it could mean that the government agrees to stand explicitly behind the GSEs' obligations, while also putting in place a new system designed to ensure that mortgage credit is available even during recessions or a banking crisis.
"'Without such support, the risk is that future recessions could be more severe because the financial system would not have the capital to support mortgage lending on an adequate scale," Mr. Geithner said in his prepared remarks.
Other panelists at the conference echoed that view.
---