Dow closes below 10,000 amid investor concerns
The Dow drops below 10,000 as investors struggle to figure out if the economy can generate new jobs or whether it will dip back into recession.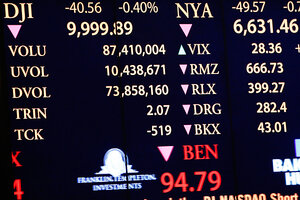 Mark Lennihan/AP
The Dow Jones Industrial Average closed below 10,000 Thursday in a sign of persistent investor doubts about prospects for the US economy.
The decline to a closing level of 9,985.81 came despite upward momentum early in the day. The Labor Department reported that new claims for unemployment insurance totaled 473,000 in the most recent week, down from 500,000 a week earlier.
Although investors welcomed that improvement, it wasn't enough to turn an overall negative tide in sentiment.
US stocks overall have lost about 5 percent of their value in the past month. The widely watched Dow index fell 0.7 percent Thursday alone. It has spent much of the past year hovering within 500 points above 10,000, or sometimes just below that round-number benchmark.
Investors are struggling to figure out whether the economy will be strong enough to generate modest job creation – and thus create a platform for rising corporate profits – or not. In recent weeks, concerns that the economy is dipping back into recession have been rising, but that outcome remains unclear.
A broader index of large US companies, the Standard & Poor's 500 index, also fell by about 0.7 percent Thursday. But it managed to close slightly above 1,045 – a level on the S&P that many stock-market strategists see as an important threshold. The day's stock-market performance would have been even more worrisome had the S&P breached that level.
Will the market downdraft continue?
---