July consumer spending up: Is US economy back on recovery track?
The rise in consumer spending counters investor fears of a dip back into recession as the American consumer loosens up a bit.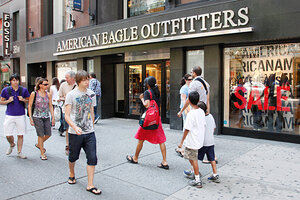 Mark Lennihan/AP
Consumer spending rose in July at a faster pace than in June, an important sign that the US economy may be clinging to a path of recovery rather than recession.
The gain in consumer activity was modest: The Commerce Department reported that personal spending rose 0.4 percent in July, after three cooler months for consumers.
It's a dash of good news, helping to counter investor fears about a possible dip back into recession in the months ahead.
The consumer economy still isn't performing as strong as in past rebounds from recession, a trend that could weigh on job creation in the months ahead. But Monday's report is reassuring on two fronts: Consumer spending came in a bit better than economists had expected, and the rise comes after a worrisome slow patch.
"Last month's report indicated that consumers were pulling back; this report indicates that the American consumer is cautiously [loosening] up a bit and there exists pent-up demand for large ticket items such as automobiles," economist Chris Christopher of IHS Global Insight wrote in an analysis of the numbers.
The Commerce Department reported that July was a tepid month for personal incomes.
---