Apple announcement Wednesday: Is 'iPod economy' still going strong?
The Apple announcement Wednesday, expected to show updates to the company's iPod line-up, can be streamed live on Apple computers and mobile devices.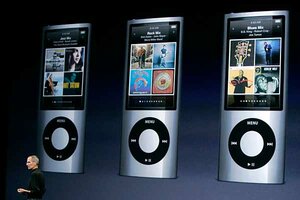 Robert Galbraith/Reuters/File
In its major product-promotion event Wednesday, Apple is trying to answer lots of questions that its fans are eager to know.
For instance: What new features will the latest iteration of the iPod emphasize? And, can the company turn Apple TV into a "killer app" for downloading TV programs, like iTunes has been in the music business?
Apple is also trying to answer the broader question of just how much momentum the "iPod economy" has.
Can Apple keep boosting revenue for its diminutive music players, while also grabbing market share for its iPhone in the smartphone arena and boosting the iPad as a new market in between a touchscreen phone and a laptop?
Clearly the consumer appetite for life- or work-enhancing gadgets continues to grow. But at a time when Americans don't have fast-rising incomes, Apple's easy-to-tote devices to some extent compete with one another. And they face growing competition from other firms.
Wednesday's presentation aimed at consumers is partly about this larger issue. The focus of the event, which has become an annual September ritual for Apple, is especially on music applications, as the guitar pictured in Apple's invitation highlights. It begins at 10 a.m. Pacific time in San Francisco (1 p.m. Eastern).
---