Cedar Point named 'Best Amusement Park.' Did your favorite park get a prize?
Cedar Point won the top prize at Amusement Today's recent awards show for the amusement park and resort industry. Other categories included 'Friendliest Staff' and 'Best Children's Park.'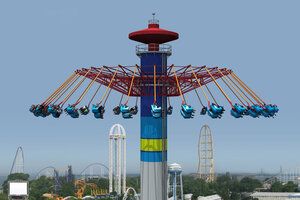 Cedar Point Amusement Park/Resort / AP / File
Cedar Point Amusement Park/Resort in Sandusky, Ohio, won the Golden Ticket this week as the "Best of the Best" in the amusement industry. In addition to taking home the top prize, the park also picked up a Golden Ticket for "Best Steel Coaster." This marks the 13th year in a row that Cedar Point has taken home top honors from the prestigious Golden Ticket Awards, presented annually by Amusement Today.
Amusement parks grew steadily more popular over the past two decades, more than doubling their revenue between 1990 and 2007, the last year for which revenue data are available. In recent years, American amusement parks entertained about 300 million visitors who enjoyed more than 1.7 billion rides, say industry officials.
"The amusement park industry tends to be somewhat recession-resistant," says Colleen Mangone of the International Association of Amusement Parks and Attractions. "When there's an economic downturn, people tend to visit a park closer to home, but the overall attendance doesn't see big swings." Even in the midst of the recession, the summer of 2009, "some parks had record attendance and revenue." Summer 2010 data haven't been collected yet, but she says, "We're cautiously optimistic that when the numbers come out, we'll see an improvement over last year."
---