Oil spill cleanup: After digging deep to kill well, BP faces long climb
Killing the well at this point was the easy part of the oil spill cleanup for the beleaguered corporate giant, whose image will be stained, and bottom line impacted, for years to come.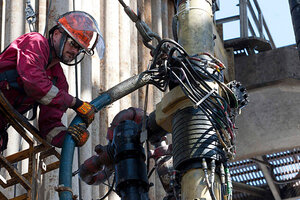 Marc Morrison/REUTERS
A big squirt of concrete and it was done. Five months after the start of the Gulf oil spill, BP on Sunday finally killed the renegade Macondo well, which shared its name with the doomed town in Gabriel Garcia Marquez's book "One Hundred Years of Solitude."
The final relief well "kill" – performed 18,000 feet below the sea floor – provided little more than a symbolic end to a summer-long disaster that put the Gulf oil industry, resort towns, and fishing communities in the grip of a crude-infused calamity that reopened wounds from hurricane Katrina five years earlier.
To be sure, troubling questions remain about the amount of oil left in Gulf waters, its impact on the complex coastal biology of the region, and the long-term economic effects of a six-month drilling ban and the 20 percent premium that explorers now expect to have to pay to drill new wells in the Gulf because of drilling delays and insurance rate hikes.
Despite a loss of nearly one-third of its stock value (or $70 billion) since the spill began, BP will endure in the Gulf, where untapped deep-water deposits shape its future as an oil company. But given the overall hit to its corporate reputation and stock price, and after a series of PR blunders under former chief Tony Hayward, BP knows it must build a new image, much as Exxon did after the Valdez disaster in 1989. And with deeds, not words.
---