'Flash crash' report: A tale of how not to make a big trade
The May 6 'flash crash' of the stock market was set off by a single $4.1 billion 'sell' order, the SEC reported Friday.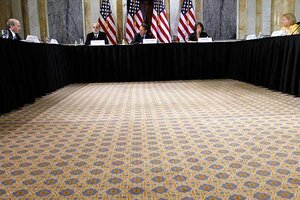 Pablo Martinez Monsivais/AP
The US stock market briefly went haywire on May 6, and a key reason for this so-called "flash crash" was a single large "sell" order, according to a report Friday by the US Securities and Exchange Commission (SEC).
It's a cautionary tale about the complexity and potential vulnerability of America's financial markets. But in the end, it's also a simple lesson for large and small investors alike: If you're going to trade, be careful how you do it.

At the heart of the incident, as the report recounts, was a single poorly designed trade. As a result, many stock prices swung sharply downward just after 2:30 p.m. and then shot upward to recover most of those losses by 3 p.m.
"A customer [investor] has a number of alternatives as to how to execute a large trade," said the report, prepared by the Commodity Futures Trading Commission (CFTC) as well as the SEC. "This large [mutual fund company] chose to execute this sell program via an automated execution algorithm ... without regard to price or time."
The mutual fund company is not named in the report, but independent media accounts have identified the firm as Waddell & Reed in Overland Park, Kansas.
---