Private sector adds jobs. You helped. Really!
Through September, taxpayer-funded jobs programs put 240,000 Americans back to work, often in the private sector. With unemployment stuck at 9.6 percent, should Congress subsidize more private-sector jobs?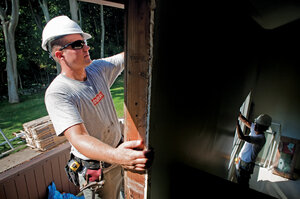 Taylor Weidman/Staff
For nine years, Arturo Santos found steady work as a carpenter. He had union benefits and a good salary. When the housing market crashed in 2008, he was quickly laid off.
"I looked for a job every day," said Mr. Santos, who traveled the Northeast for weeks at a time in search of construction work. "They just didn't need anybody."
As the jobless months dragged on, it grew harder to support his family, even with a $400 weekly unemployment check. Then, in June, his job search came to an abrupt end. Santos was offered a $26 per hour, full-time, carpentry job just days after completing an online application.
How did he snag a job after nearly two years of unemployment? Help from taxpayers. The private contractor who hired Santos wasn't paying his wages, the federal stimulus was, part of a subsidized jobs program that provided some 240,000 Americans in 37 states with employment.
But the $5 billion program, known as the Temporary Assistance for Needy Families (TANF) Emergency Fund, ended Sept. 30 when Republicans blocked Democratic attempts to extend it through the end of the year for an additional $500 million. With September's unemployment rate stuck at 9.6 percent, should Congress fund another jobs program?
As economists point out, government-subsidized jobs don't generally promote long-term economic growth. But as stimulus, targeted at a particularly vulnerable population, the subsidies represented a way to get unemployed people back to work and provided a quick way to boost the economy.
The chain of events that got Santos hired began in April, when independent contractor Bryan Menge won a contract to replace siding and windows for several housing units in Bristol, R.I. The contract was a lifeline in a moribund market. But he was reluctant to hire new people, having been forced to let all his workers go in the previous two years.
---